Should you roll your own social network? If yes, how do you build it so they will come, and take action?
Presented by:

Mike Bonifer, writer, director, producer and author of GameChangers. The author of GameChangers – Improvisation for Business in the Networked World, and the co-founder of GameChangers, LLC, Mike Bonifer has consistently been in the forefront of emergent media in the workplace.
A graduate of the University of Notre Dame with a degree in Business and Philosophy, he has been a writer, director, producer and creative executive in entertainment and the internet for most of his career.
Beginning with his work as the publicist for the motion picture TRON, and his association with Toy Story, through a stint as the Chief Storyteller for 2007's Live Earth concerts for the environment, his work at the edges of emerging business cultures has given him tremendous insight into the creation of wealth in the Networked World.
Past and present clients include The Walt Disney Company, JohnsonDiversey, DreamWorks, Frito-Lay, Mountain Dew, Hot Topic, Smithsonian Online, and a host of smaller, innovative new media companies like Pandora, ignition, Twelve Horses and myPractice.
In creating GameChangers, he has produced a curriculum that helps organizations and individuals communicate, learn and transform.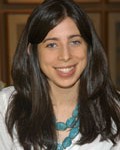 Wendy Cohen, Director, Digital Campaigns & Community, Participant Media. Wendy led the social action campaign for Waiting for Superman.
Wendy Cohen joined Participant in November of 2007 as the Manager of Community and Alliances and the founding editor of the TakePart.com blog.  Wendy has developed innovative online and mobile initiatives for Charlie Wilson's War, The Visitor, Food, Inc. and The Cove. She shepherded the digital component of the social action campaign for Waiting for "Superman"

Wendy was born and raised in Montreal and graduated first in her class from Concordia University's Communications and Culture Studies program.  Prior to Participant, Wendy was the first Community Manager for The Huffington Post in New York City and she co-founded the Screening Liberally film series, of which she remains the National Director. A native of Montreal, Wendy began her work in film in 2004 as the Programmer and Outreach Coordinator for the Media That Matters Film Festival and Media That Matters: Good Food project.. She also worked as the researcher and creative assistant on The Art of the Documentary (New Riders Press) and served as co-chair on the Urban Pathways Young Professional Board. She has been the co-curator of the Netroots Nation screening series since 2007 and continues to be a guest lecturer and panelist at festivals and schools around the country. In 2009, Wendy produced "Every Third Bite", an award-winning short documentary about bees hailed as a "better bee movie" by New York Magazine. Wendy is a recipient of the 2010 New Leaders Council's 40 Under 40 Leadership Award.